If you cant attend the classes, Don't Worry..
Get Exclusive Books Set *(Sp.Developed By Experts) For all the Concepts, solutions n Tricks of
Maths, English, Reasoning n G.S for Rs.2500/-
A Well Designed, Structured & Comprehensive Study Material Can Increase your Chances of Cracking your Exam by Upto 3 Times.
1.) Choosing the Right Books to Study, Makes you half the battle Won! We have designed that for you.
2.) Practising Mock Tests Before Actual Test & Evaluating Yourself, Helps you Maintain Pace & Strategize. Practise on Our Specially Designed Mock Test Series Sitting @ your Home, Helps you do that!
3.) Nothing Beats the Classroom Coaching, One to One interation with the Experts, Helps you know the Concepts Thoroughly, Plan Your Strategy, Know The Tricks & Get Selected. Our Teachers are Experts, They are Our Real Strength!
How To Apply For Distant Learning Course..?
To Get the Distant Learning Course,
1.) Buy Exclusive Study Material Online HERE

2.) Offline Method
Offline Demand Draft/Cheque Method
Simply Send a Cheque/Demand Draft of Rs. 2,500/- (All Inclusive.) to the Following address Along With all the Details --> Name, Phone Number, Mailing Address and Email ID.
Cheque/Draft is to be Made in Favor of "M/S Excel India Group"
Cheque/Draft is to be sent at:
Excel Classes,
1/1 East Patel Nagar,
New Delhi - 110008
Once the Cheque/Draft gets Cleared, The Student Will Get the Complete Study Package in 4-5 Days.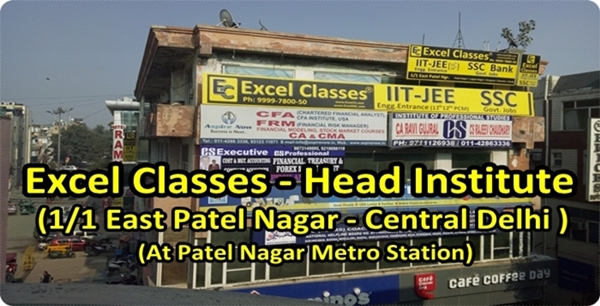 Excel Classes Presents Distant Learning Programme
For the students who want to study from Home or are unable to Come and attend our Regular Classroom Programme.
With Growing Competition in the Field of getting a Govt. Job, The Competition is going even tougher, and to overcome this competition Excel Classes has thought of coming up with the Solution of DISTANT LEARNING COURSE to help serious students student to prepare even better.
Our Distant Learning Course has all the Latest Questions, Tricks and Shortest Solutions to the Toughest Problems in an Easy Way. That is the Reason why Students From Across the Country, Order our Distant Learning Course.
SYLLABUS:
A. General Intelligence & Reasoning
B. General Awareness
C. Quantitative Aptitude
D. English Comprehension
What All You Get in This Course..?
1. Institute's Specially Designed Books.Delivered at your home.
2. Latest Questions and Tricks.
3. Customized and Tough Questions to do.
4. Email and Personal Mobile Nos. of All the Teachers to Solve your all the queries, Sitting from your Home.
5. Students Will be Informed of the Upcoming Papers.
6. Students Will be Provided with the Right Approach to Crack these Exams.
7. Students will Also be provided with the Contact Details of the Teachers so as To ask any Doubt, anytime.
EXCEL CLASSES Would like to Wish all the Students, All the Very Best for Your Effort and Upcoming Exams..