Evaluate Yourself on 25 Full Lenght Mock Tests (With Tricks n Solutions)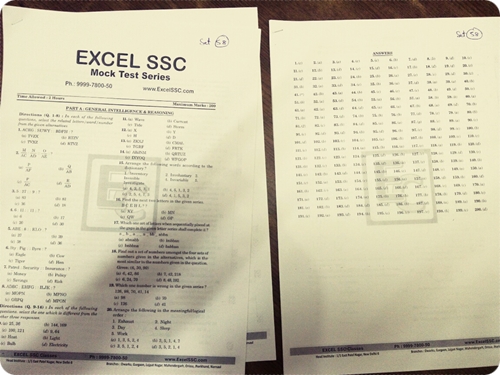 Join Our Exclusive Test Series (25 Tests)


(Hard Copy of the Test Papers & Solutions Will be Sent to Your Home)
(Students Can Also Come & Give the Tests @ Patel Nagar, Delhi Center)


25 Full Length Exclusive Mock Tests
*(Sp.Developed By Experts)


With all the Tricks, Shortcuts & Solutions of the Questions
25 Full Length Exclusive Mock Tests Only for Rs.1900/-


Speed & Accuracy is Everything. Until you Give Mock Tests,
You'll Never Know where you are Lacking & Where you Need to work..
Solutions Will Help You Analyse & Learn More Concepts & Shortcuts.
1.) Choosing the Right Books to Study, Makes you half the battle Won! We have designed that for you.
2.) Practising Mock Tests Before Actual Test & Evaluating Yourself, Helps you Maintain Pace & Strategize. Practise on Our Specially Designed Mock Test Series Sitting @ your Home, Helps you do that!
3.) Nothing Beats the Classroom Coaching, One to One interation with the Experts, Helps you know the Concepts Thoroughly, Plan Your Strategy, Know The Tricks & Get Selected. Our Teachers are Experts, They are Our Real Strength!

We are the Best SSC Coaching institute of Delhi


How To Apply For Online Test Series..?
To Get the Distant Learning Course:

1.)Join Full Lenth Test Series - Buy HERE



Evaluate Yourself on 25 Full Lenght Mock Tests (With Tricks n Solutions)
2.) Offline Demand Draft/Cheque Method
Simply Send a Cheque/Demand Draft of Rs. 1,900/- (All Inclusive.) to the Following address Along With all the Details --> Name, Phone Number, Mailing Address and Email ID.
Cheque/Draft is to be Made in Favor of "M/S Excel India Group"
Cheque/Draft is to be sent at:
Excel Classes,
1/1 East Patel Nagar,
New Delhi - 110008
Once the Cheque/Draft gets Cleared, The Student Will Get the Complete Study Package in 4-5 Days.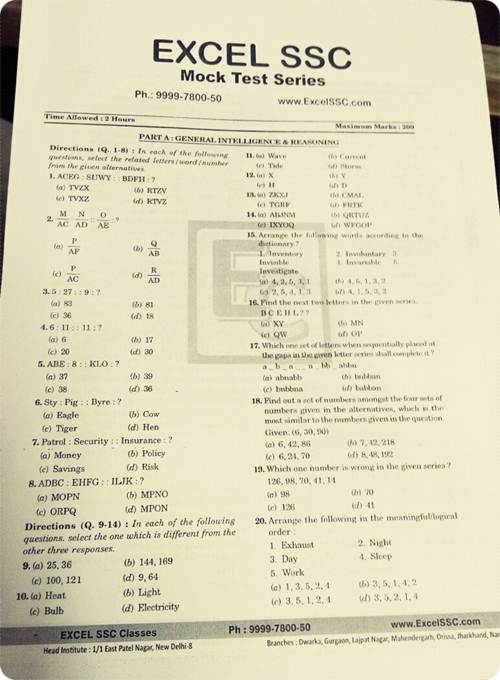 EXCEL CLASSES Would like to Wish all the Students, All the Very Best for Your Effort and Upcoming Exams..